Originally published at Brittany Lifestyle Blogs
Building Investment Momentum in Challenging Times was a professional learning webinar on investment opportunities in the New Normal. It was held on 22 May 2021, starting at 2PM onwards via Zoom. An exclusive affair, it was a registration-only webinar open to industry leaders, real estate professionals, and valued clients of Brittany Corporation. As such, the link was only released to those who were invited to register and have accomplished the registration process.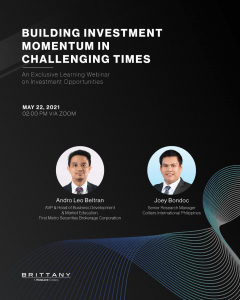 Official poster of the investment seminar, featuring industry experts as guest speakers.
The New Normal is a Period of Progress and Rebirth
The only way is up.
The COVID-19 pandemic has impacted everyone's lives and businesses, leaving no industry or even country untouched in the year 2020. This year, the New Normal is human civilization's mass effort in picking up the pieces, repairing the damages, and trying to build a new sense of normalcy back into the world. On a local level, economists, medical professionals, and financial experts have worked double time to provide estimates, as well as guidelines to propel the country back to progression. This is essentially a period of observation, research, and learning so that we may move forward as a nation. 
The Philippine real estate industry was affected as well but trends show that it continues to remain optimistic, according to a leading real estate service company Santos Knight Frank. Manila's prime residential market registered one of the highest growth rates globally in 2019, increasing by a whopping 6.5 percent in Knight Frank's Prime International Residential Index. That makes the residential market growth rate of Metro Manila alone, the eighth highest globally and impressively the third highest in Asia. This growth is driven by a tight supply of luxury and high-end properties, an increasing number of Filipino UHNI or ultra-high net worth individuals, and continued demand from foreign buyers.
Other industries that thrived during the pandemic are those that were able to adapt quickly and have been subjected to digital transformations, such as those in the services sector. This is because these businesses are not that dependent on external factors such as customs, and offer services that can easily be moved online, can be packaged as home services or can be delivered through local couriers. In fact, the exponential growth of e-commerce giant Amazon has been fueled by the pandemic through the simple influx of online orders. Of course, with carefully curated and well-planned steps amidst the global crisis, Amazon CEO Jeff Bezos ended 2020 even richer—still the wealthiest person in the world—after making tens of billions during the COVID-19 pandemic.
Now more than ever is careful planning is not only a good value to have, but also essential to save businesses, industries, and even countries.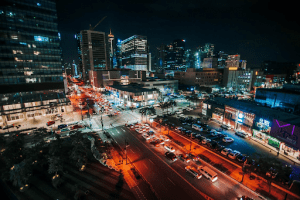 BGC is the picture of economic growth.
Building Momentum for Smarter Investments in an Improving Economy
Keep moving forward.
By definition, momentum refers to the amount of motion occurring in something that is moving or the force that drives something forward to keep it moving. When there is no momentum or driving force, there is no movement; and when there is no movement, there is no progress. Negative momentum, on the other hand, is characterized by regression and decline through actions without thought, behavior without intention, and plans without direction. The goal is not to avoid monotony, but to avoid failure, because there is no room for that in success. Contrary to common belief, success means not just doing something or making any decision, but also doing it with intention and careful planning. There is a comprehensive process before that one simple yet crucial decision that could either drive positive growth or negative results.
How do we know we are taking steps in the right direction?
The simple answer to this question is knowledge. As the popular adage goes, "knowledge is power." And the best type of knowledge is wisdom that comes from a combination of experience and training. That's why learning from leaders and experts these days has become so valuable. It's definitely a more efficient way of holistic learning than going through the entire process of trials and errors that experienced professionals have gained useful insights from already. After all, It's only right to learn as much as we can first instead of taking risks in such sensitive times as this.
Investment Insights from Certified Industry Leaders and Experts


Business investors have had difficulty strategizing and estimating outcomes based on market behavior since the stock market right now is very volatile and still heavily impacted by the global pandemic. Furthermore, the global financial crisis brought about by the pandemic has forced investors to take a closer look at their assets to safeguard their finances, some even liquidating or pulling out shares from businesses that may not be as profitable as they once were before the pandemic.
Due to these difficult times, financial experts and advisors are now well sought after. Fortunately, Brittany's exclusive webinar entitled Building Investment Momentum in Challenging Times proved to be a relevant response to growing investment concerns. Guest speakers who are experts in investment and business development were able to discuss pressing matters regarding the real estate industry's performance in the current economy, as well as provide adept investment advice.
The first speaker of the webinar was Andro Leo Beltran, the assistant vice president as well as head of business development and market education for First Metro Securities Brokerage Corporation since 2015. He is also a managing director of a variety of businesses, proving his experience and competence in his field. He is an accredited lecturer and trainer with licenses in Philippine Stock Exchange, Securities and Exchange Commission, and Bangko Sentral ng Pilipinas. Add to that his professional certifications from the likes of Bloomberg.
The second speaker was Joey Bondoc, the associate director for research in Colliers International Philippines. Prior to joining Colliers in March 2016, he worked as a research manager for a research and consultancy firm where he handled business, political, and macroeconomic analysis. He took part in a number of consultancy projects with multilateral agencies and provided research support and policy recommendations to key government officials and top executives of MNCs in the Philippines.
We have learned so much from these credible guest speakers on the much-anticipated webinar held last 22 May 2021. Brittany Corporation arranged this momentous webinar as part of its efforts to provide value to its clients through digital transformations and help improve the country's economy in the long run. 
Stay tuned for more exclusive webinars and other updates by following Brittany's social media platforms: